I've recently gotten into open tunings, and subsequently into resonator guitars. After owning a couple of really sweet new National Resonators, I started to lust after old ones. I've always dug Duane Allman's "Little Martha", and particularly loved the tone he got on the old Dobro guitar he played on that tune.
After watching eBay for a couple of years, and after my usual sources not coming up with any, I finally found a really cool old pre war model 27, in a rare color scheme a couple of months ago. See here;
viewtopic.php?f=2&t=5241
In doing a bunch of research before buying that 1936/1937 Dobro, I came across very little hard information about pre war Dobros. It's amazing how little factual info there is. I did come across an excellent article, the best info I could find. It was written by a fella named Randy Getz. Randy listed his e mail addy at the end of his article, and I was surprised to see that his e mail server was the same as mine!!
Long story short, Randy lives about 20 minutes from me!! I kid you not!! And, I finally was able to have Randy out to my home for a visit today.
Randy is a wonderful gentleman. A retired Navy man, he's been keenly interested in Bluegrass music, and has certainly gotten into pre war Dobros in a big way. He is a real expert on them. And, he has a world class collection of pre war Dobros. I must say that I learned a ton about Dobros, and really appreciated Randy sharing all this with me!! I told him that he really NEEDS to write a book about pre war Dobros...........
Randy brought out five representative guitars and graciously allowed me to play them all, as well as photograph them. They were all set up high, to be played "lap slide" style, which I can't do!!! Well, can't do yet, make that, as I'm going to try to learn to play lapstyle. In any event, I used a slide, and played them the "standard" way, meaning holding them in front of my chest. I was able to play even the square neck Dobros in this fashion.
One was better than the next!! What amazing old guitars there are!! Here are some quick photos I took;
Model 85;
Model 27 Square Neck;
Model 27 Round Neck;
Note that this particular Model 27 is a close "relative" to my Dobro, being only a couple dozen serial numbers apart. You can see Randy's, and then mine as the last two guitars on the right in the following photo, which is quite a line up of pre war Dobros (l. to r. Model 85, Model 27 Square Neck, and two Model 27 Round Necks);
Model 37 Square Neck;
A cool Tenor Dobro, made for the banjo players of that era, so that they could play it the same as they'd play their banjos;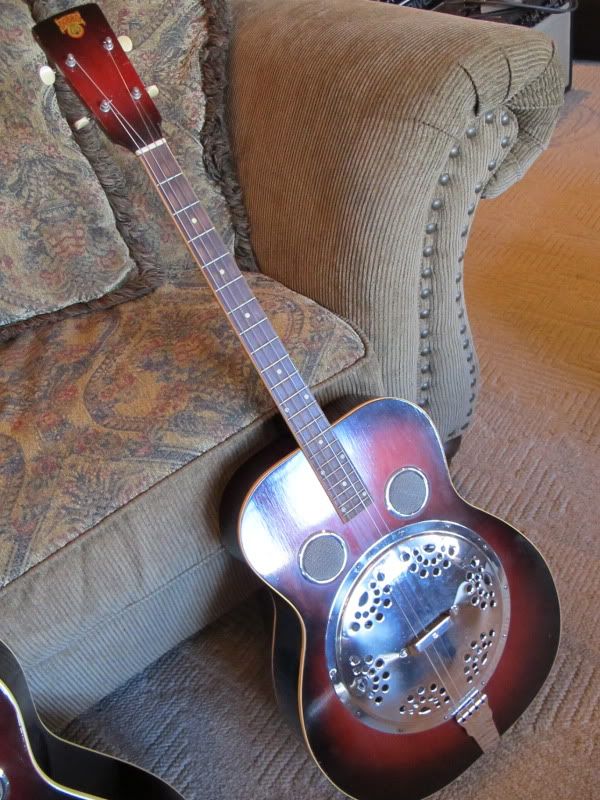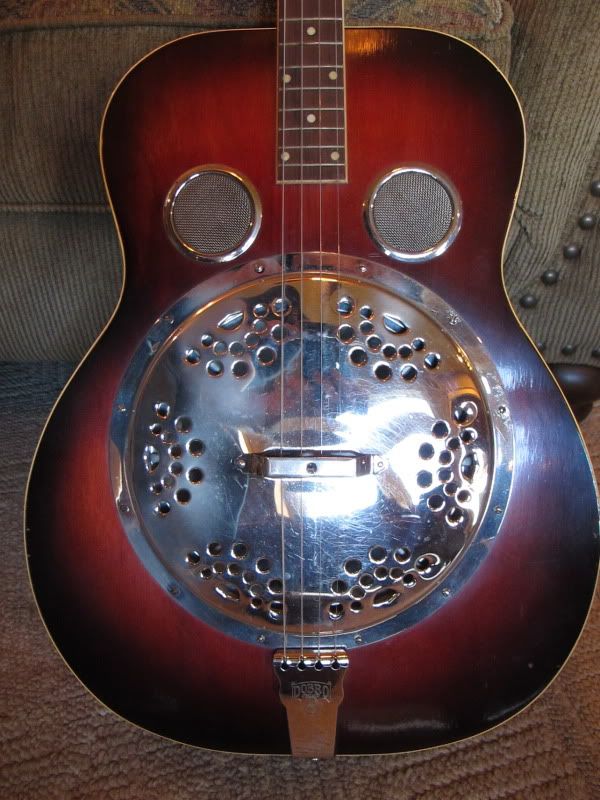 I'd encourage you to take a few minutes and read Randy's excellent and informative article on pre war Dobros;
http://www.resoguit.com/getz/prewar.doc
Thanks to Randy Getz, for graciously sharing his knowledge, and his wonderful old Pre War Dobros!!
Randy is a new member of The String Network. Feel free to ask him any and all questions you may have, here in this thread. I'll PM Randy to be sure he sees this thread.