I have been blessed by another custom built acoustic guitar, built by my friend,
Danny
Brown
.
Danny
is the senior luthier in the Custom Shop at Martin Guitar, but does a small number of custom builds at home. He has collected all sorts of old growth wood over the past 30 years, affording him the now rare opportunity to build guitars like the "golden era" guitars of the pre WW-II era that are not only built in the old tradition, but are also built of wood very much like the "old wood" that was used back then.
Here is a link to the thread discussing the first guitar
Danny
built for me, a wonderful
Danny
Brown
D-45;
viewtopic.php?f=2&t=6424&hilit=

danny

+

brown
As I've gotten to know
Danny
, we have developed a list of guitars I'd like to have him build for me. This little "DJB" (aka
Danny
J
Brown
) "00-28" was NOT on that list!! This is a guitar that
Danny
started for another client, who ended up in a divorce and unable to follow through with the build. Luckily I was given the opportunity to come in and participate in much of the design of the build. When I got involved,
Danny
had assembled the body of the guitar, but nothing else. So, I was able to "make it mine" so to speak.
One of the great things about a DJB guitar is that
Danny
knows what a maniac I am about guitars, and in particular acoustic guitars. I LOVE everything about them, and love learning more of the details about what makes them tick. So,
Danny
and I will decide what basic style we'll go with, and then will literally design it from the bottom up. How many frets clear of the body.....12 or 14? Neck thickness, shape, width.......It's a wonderful opportunity for me to be able to do this with someone who knows what
Danny
knows about acoustic guitars.
So, I told
Danny
that I'd like this to be a finger style guitar, similar to an old 1930 Martin 0-28 that I own. I wanted 12 frets free of the body, with a slot head, and a wide neck. No pick guard either. All of these are attributes of the most coveted of the old Martins for finger style players. I wanted a "V" neck, and I wanted a more pronounced "V" than you typically see in modern guitars. I also wanted a thick, chunky neck. I feel strongly that a big thick neck has tremendous value to the tone of a guitar, particularly an acoustic guitar. With help from
Danny
's wife, we decided to go with vintage styled tuners, but plain ones....nothing fancy. I also wanted an old fashioned "pyramid" bridge, just like the old one's made in the early '30's had. As opposed to the "fancy" D-45
Danny
had already made me, this guitar was to be more of a "plain Jane", which is very much in the fashion of old Martin guitars. For me, that understated handsome elegance of an old Martin is the visual message I'd like my guitar to make. I also wanted this 00-28 to be a "shade top", similar to my old 0-28. Here is a photo of my 1930 00-28. Take note of how the braz back on this 1930 Martin is so similar to the braz back on the DJB 00-28......it could almost be from the same tree!!
;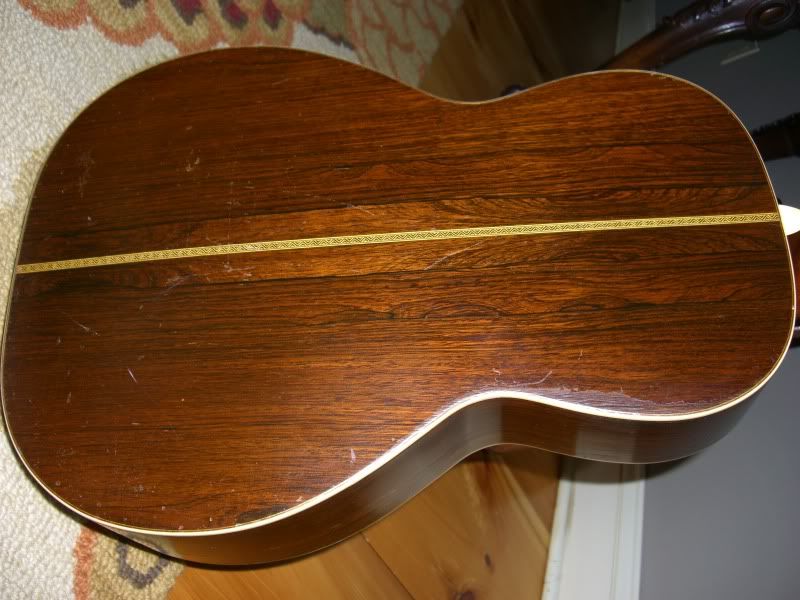 So, with my son Jeff, and Dave Smith in tow, I headed down to
Danny
's this past Saturday to pick it up. We had a great couple of hours, playing the new guitar, and just enjoying some time with
Danny
, and his wife.
The guitar is a little power house! It's got a very sweet small guitar tone. It's much louder than you'd expect from a relatively small sized guitar. It's got a treble biased tone, yet still have amazing bass and mids with wonderful overtones. The guitar was braced for medium strings. But, I asked
Danny
to set it up for lights. It is a short scale length. So, that, combined with the light strings makes the feel of the strings very pliable, and easy to bend strings. It has a wonderful "snappy" feel, especially for finger style playing. It also responds very nicely to strumming chords. The guitar likes to be strummed lightly, and rewards you in amazing overtones when you do so.
As we were playing the guitar at Dannys, both my son and Dave Smith stated their opinion that this guitar was every bit as amazing as the D-45
Danny
built me. Now, I am continuously amazed and totally in love with the DJB D-45. So, when I heard them saying this, something in me said "no way!!".
Yet, having lived with the 00-28, and playing it for a couple of hours every day, I'm now in full agreement. It's another stunningly wonderful guitar.
Danny
has THE MAGIC!
Danny
did a totally unique hand stain job on the adirondack face of the guitar. It's a shade top the likes of which I've never seen before. It's quite striking. And, my wife likes it!! Believe me, THAT means a lot!!
I've been playing it along side of my wonderful old '30 Martin "0-28", and have to say that the DJB 00-28 holds it's own, and then some!! I can not wait to hear it as it settles in, dries out, and opens up. I may also have
Danny
change out the set up in order to put medium strings on it. I know
Danny
voiced it for medium strings, and can only imagine how much more punch and power it'll have with mediums on it.
Danny
's D-45 has mediums on it, and I'm very comfortable playing it. If I do go with the "conversion" to medium strings, which would require the nut to be altered, and a new saddle, as well as a tweek on the truss rod, I'll post and let you know how it goes.
Here are some photos of the new DJB 00-28, along with a couple of iPhone vids we shot at
Danny
's house.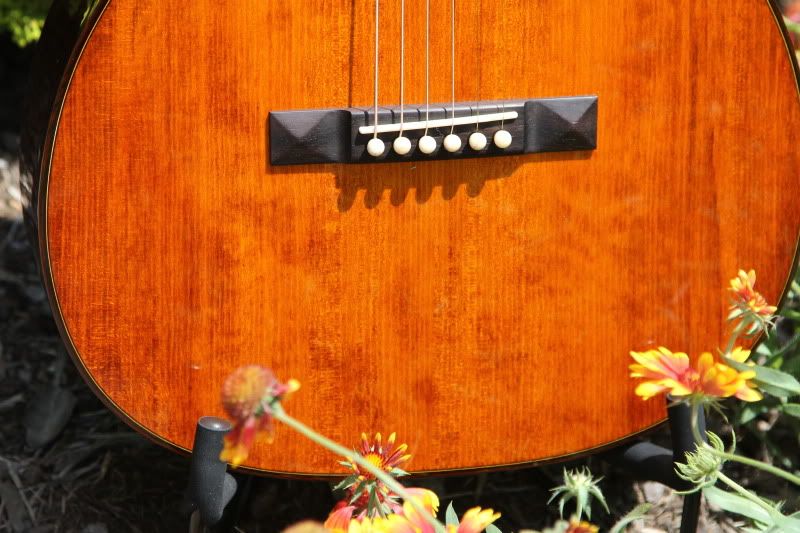 Here's
Danny
;
Here are some iPhone vids. In order to view the video, just click on the center of the image below. The first is the very moment I first laid my eyes on her;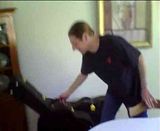 Here's Dave Smith (aka 'gtrfxr');
Here's
Danny
;