As promised, I'll be putting several different sets of humbuckers into my Gibson Custom Shop "Burst Brothers" Les Paul. The factory installed original pu's are hand wounds made in the Custom Shop, not stock Gibby pu's. They are fine, but just don't match the "tone in my head", as they say. I find the neck pu a bit too mushy, and while the bridge pu is generally excellent, I find that single notes played up high on the neck, especially on the first two strings, sound "ice picky". Hence, the swap out contest!
I'll be putting the following sets of humbuckers into the BB LP; PRS DGT's, PRS 57/08's, Lindy Fralin "Pure PAF's", and WCR "The Filmore Set".
My plan is to record each different set of pickups in the identical same way, so that I can go back and do a side by side comparison. I'll also record the original pu's as well, of course.
The recording will be on my iMac Quad Core using Logic, thru the Apogee "Ensemble". I'll be playing the BB LP straight into my old Marshall 18 watt Bluesbreaker 2x10 combo (model 1958, from about 1965). I have the amp close mic'ed with a SM-57 (on the left in photo below) and a Royer 122 (on the right, below);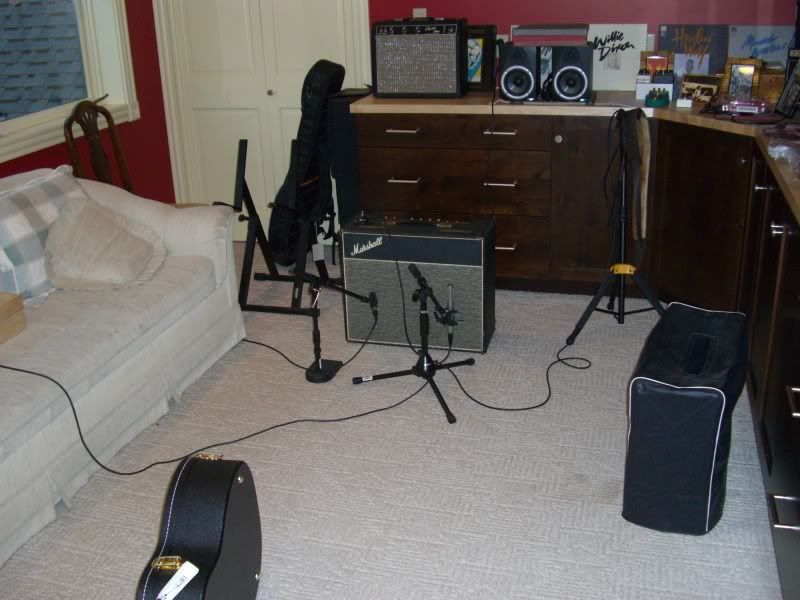 I also have my Neumann mic'ing the room;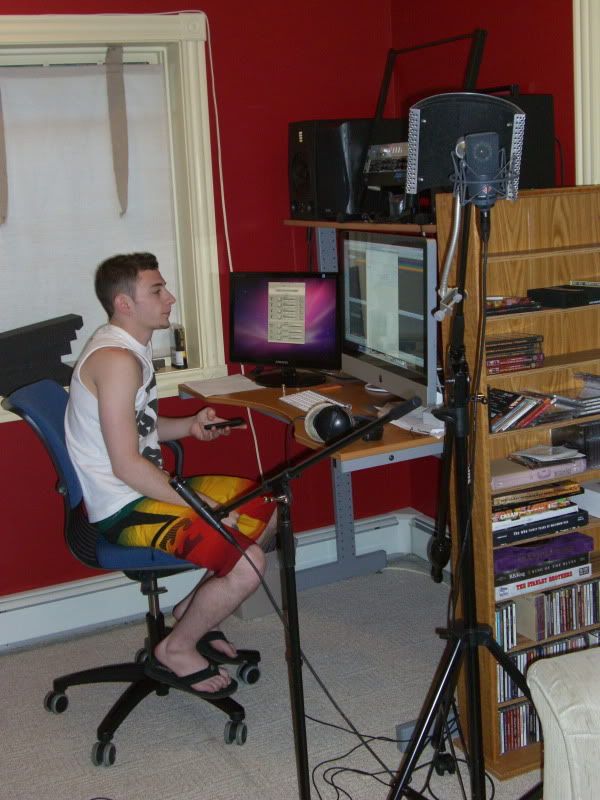 I'm going to keep it all set up, and in the same place through out the entire time I'm doing this little experiment.
I'm going to try to play pretty much the same tunes for each recording. I'll play "Sunshine Of Your Love" using the bridge pu, followed by a brief bit of "In Memory Of Elizabeth Reed" using the neck pu.
Here's the first installment, playing the
Burst Brothers Les Paul with stock pick ups
(i.e. with the original hand wound custom shop pu's still in it);
http://soundclick.com/share.cfm?id=10821175
I should have the PRS DGT's in the BB LP tomorrow, and will record again and post it soon.
Enjoy!!